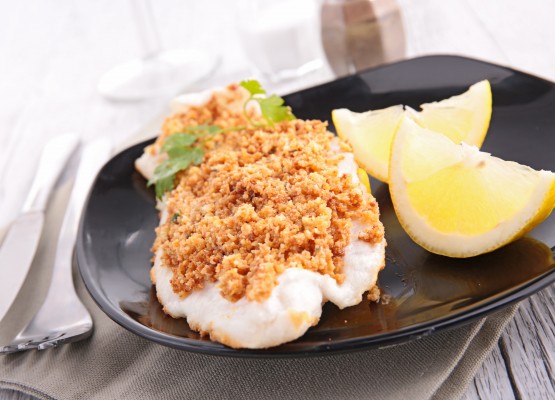 Anti-Inflammatory Crusted Fish
It is very important to continue consuming foods that are anti-inflammatory. Inflammation is at the root cause of most chronic illness. This simple recipe is healthy and delicious. I have crushed many kinds of rice crackers, chips, seeds, and nuts to coat fish. It is very easy to experiment with different flavors to create scrumptious meals every time. Serve this crusted fish with a giant green salad and light salad dressing such as red wine vinaigrette or simply use lemon with olive oil.
Serves 2
APPROX 20-25 minutes
Ingredients
1/2 cup finely crushed barbecue-flavored rice chips
3 tablespoons raw sunflower seeds, finely ground in coffee grinder or food processor
1/2 teaspoon garlic powder
1/2 teaspoon onion powder
pinch salt
pinch freshly ground black pepper
1 pound sole or cod or halibut
1 egg, gently whisked
Lemon wedges for garnish
Instructions
Preheat oven to 375 degrees F.
Combine chips, seeds, and dry seasonings together and spread evenly on a large plate. Dip each fish fillet in egg mixture and then press it firmly into the rice chip mixture to coat on both sides. If needed, re-dip fillet through egg mixture and coat again. Transfer to baking sheet and bake for 10-14 minutes until fish is tender and flakes with a fork.
Serve over bed of greens, sprinkle with lemon, and top with lemon wedges for garnish.
Note: any barbecue flavored chip or other crackers will work in this instance. I choose to use the rice chips because I want the recipe to remain gluten-free as well as anti-inflammatory.