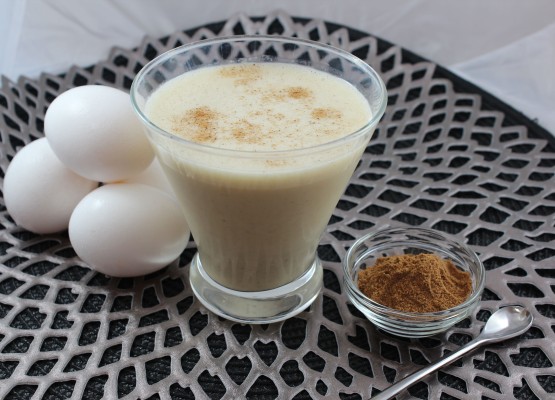 Banana Eggnog
Eggnog is a delicious way to get extra protein into the diet. You can drink this drink exactly as it is or if you would like it a little more sweet, you can add stevia or a small amount of pure maple syrup.
Serves 2
APPROX. TIME 10 minutes or less
Ingredients
1 banana, frozen in 3 chunks
4 organic eggs
2 cups unsweetened almond milk
2 teaspoons vanilla extract
1 teaspoon cinnamon
¼ teaspoon nutmeg
Nutmeg for garnish
Instructions
Wash the outside of the eggs well with soap and water. Rinse and pad the eggs dry. Combine all ingredients in a blender and blend until smooth. Pour into glasses, garnish with a sprinkle of nutmeg, and serve immediately. Can be saved in refrigerator for 1-2 days.
As long as you wash the eggs well before use, you avoid salmonella risk. The true risk of salmonella is from the feces on the eggshell that gets into the foods when the eggs have been cracked.