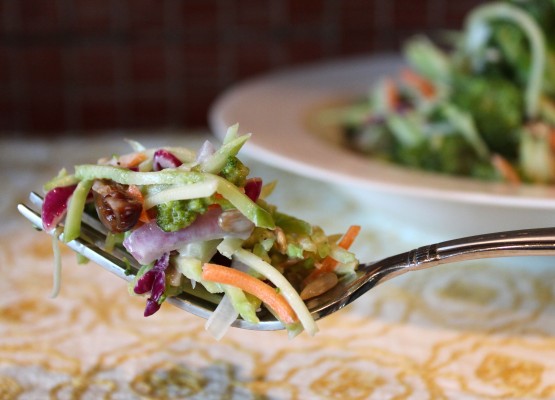 Broccoli Slaw Salad
A version of this salad is a favorite of my mothers and is served often at family dinners. I substituted the bacon in my mom's recipe for cranberries, added the bag of broccoli slaw, and used Sweet Freedom (a liquid extract of carob and fruit) instead of sugar. You can also use Agave or honey. Yum!
Serves 6-8
APPROX. TIME 15-20 minutes
Ingredients
1 bag broccoli slaw
2 broccoli crowns, chopped, saving just the florets
¾ cup red onion, sliced thin and about an inch long
1/3 cup organic mayonnaise
1 tablespoon organic olive oil
3 tablespoons red wine vinegar
2 tablespoons Sweet Freedom or Agave Syrup
½ teaspoon Real salt or sea salt
7 grinds of fresh ground pepper
½ cup roasted and salted sunflower seeds
1/3 cup dried cranberries, minced small
Instructions
Put chopped broccoli florets in a saucepan with about ½ inch of water at the bottom. Blanch the broccoli over medium heat for a couple minutes until the broccoli turns bright green but is still crunchy. While the broccoli is heating, chop the onion and cranberries and get out a large bowl. When broccoli has blanched, transfer saucepan to the refrigerator or freezer to chill.
For the dressing, combine mayonnaise, olive oil, red wine vinegar, Sweet Freedom, salt, and pepper in a small bowl and mix until blended. In a large bowl, add broccoli slaw, onion, cranberries, sunflower seeds and dressing and combine until thoroughly mixed. Add the chilled broccoli and stir again, bringing contents from the bottom of the bowl upward each time you are mixing. It is okay if the broccoli is still slightly warm before combining.
This salad tastes best after it has had some time to sit for the flavors to marinate. Cover, transfer to the refrigerator for at least 30 minutes before serving.