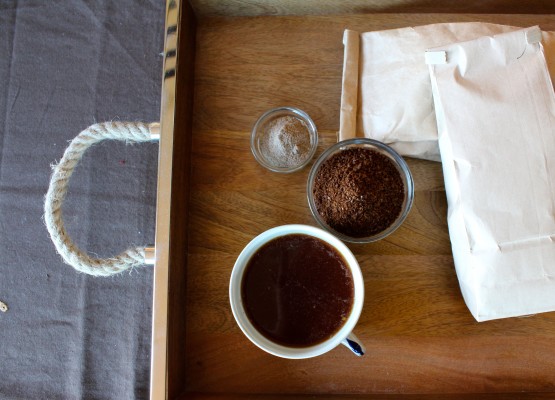 Cardamom Cold Brew Coffee
Making cold brew coffee is a delicious way to enjoy coffee. Cold brew offers  health benefits too! Brewing coffee without using heat processing releases less acidic oils compared to the regular heat brewed coffee. The taste is very smooth, much less bitter tasting than coffee which means you will want to put less cream or less sweetener into your coffee. Here is my take on a delicious "wake me up drink" for the morning.
Serves 6
APPROX. TIME: 15 minutes plus 12 hours soaking time
Ingredients
1 3/4 cup organic coffee beans, course ground
3 3/4 cup filtered water
2 1/2 cups organic unsweetened almond milk
2-3 tablespoons honey
1-2 tablespoons filtered water
1 tsp. cardamom
Instructions
In a large air tight jar, combine the filtered water with the course ground coffee, shake well and allow to sit on counter overnight or for at least 12 hours. I shake my mixture a few times in this 12 hour period.
When ready to separate, gently pour off the liquid through a coffee filter into a new container. This should yield about 2 1/2 cups of cold brew concentrate. Mix with equal parts almond milk, usually about 2 1/2 cups.
In a saucepan over low heat, add 1-2 tablespoons water and 2-3 tablespoons honey. Stir until combined. Add cardamom and stir gently. Remove from heat and add to your cold brew almond milk mixture. Shake well.
Chill in refrigerator. Shake well before each serving.