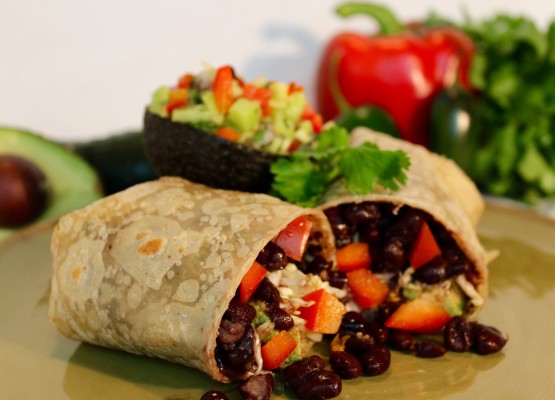 Crunchy Burritos
Burritos are easy to make and can include a wide array of ingredients. This recipes is meant to be an easy dinner to throw together, but if you have a little more time you can saute onions, garlic, and zucchini in a little olive oil to layer into your burritos. If you are making these burritos for children, especially under the age of 6, wrap the bottom part in aluminum foil. This helps little hands be able to hold the burritos together. My three-year-old daughter never ate burritos until I started doing this for her. If it was served to her on a plate lying sideways, she would just pick it apart.
Serves 2
Approximate time: 20 minutes
Ingredients
4 teff tortillas, warm
1 cup cooked black beans, warm
1 cup raw green cabbage, finely chopped
1 cup barbecue-flavored rice chips, crushed into small pieces
1 avocado, cut into 8 slices
Fresh salsa to taste
Instructions
Place tortilla on a serving plate, top it with 1/4 cup each of the beans, cabbage, and rice chips, plus 2 slices avocado. Roll tortilla, tucking in ends. Repeat with remaining tortillas. Serve with fresh salsa.