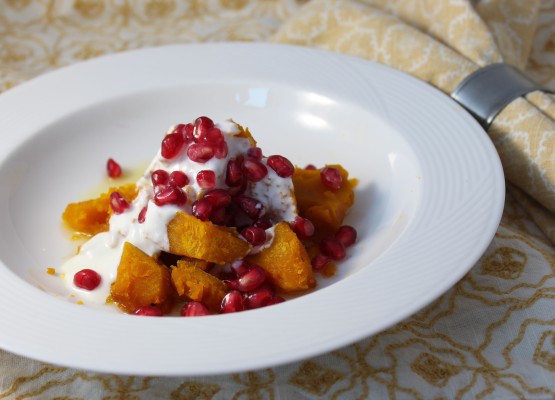 Decadent Squash with Pomegranate
Welcome fall with this amazing squash recipe. I recently enjoyed a version of this recipe in a restaurant in Portland. You won't be able to stop eating; the flavors are so delicious.  The main time involved in this recipe is the baking of the squash and digging out the pomegranate seeds. Once those tasks are accomplished the dish is put together rather quickly and easily. Pomegranate, unfortunately, is under used in cooking and we should enjoy it's benefits more. Pomegranates contain polyphenols which are very important in heart health. See notes at the end of the recipe for substitution ideas.
Serves 4
APPROX. TIME 75 minutes
Ingredients
1 small Kabocha or Buttercup Squash
1/2 Pomegranate
8 tablespoons of ghee
1 cup plain unsweetened yogurt (I like Green Valley lactose free)
Sea salt to taste
1/2 lemon
Instructions
First, preheat the oven to 350 degrees. Cut the squash in half and carve out the seeds. Bake face down in baking pan filled with an inch or two of water. Throughout the baking process, continue to check and add more water as needed. Cook the squash until it is soft and can be easily cubed, but not so soft that the squash become mushy as you try to cube it.
While the squash is baking, cut pomegranate in half and dig out half of the seeds and set aside. After the squash is done baking, cube it until you have 3 cups cubed squash. Additional squash may be left over. Heat ghee in saucepan until liquid consistency. Divide the 3 cups of hot squash among 4 bowls and top each with 2 tablespoons of ghee. Top the squash in each bowl with 1/4 cup of yogurt. Divide the pomegranate generously between the 4 bowls. Use more pomegranate if desired.
Lastly, sprinkle each bowl with sea salt and a small squirt of lemon juice.
Instead of the ghee, you can use butter, coconut oil, or olive oil. You can use smaller amounts if you don't want the extra oil. Instead of the yogurt, you can try a vegan yogurt such as WholeSoy plain yogurt. Coconut and rice yogurts won't taste as good in this recipe, therefore I would use the organic soy yogurt as a substitute for a dairy-free version of the recipe.