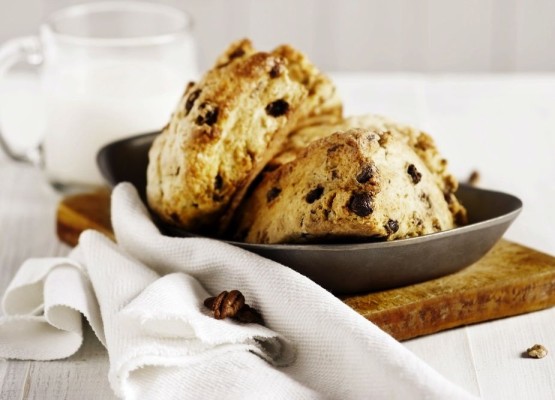 Gluten-Free Chocolate Chip Mini Scones
These gluten-free Scones are incredibly delicious and packed with protein. Make sure to read the baking tips for this recipe before starting. Some are timesavers and some suggest substitutions for the recipe to make it fit your particular diet. These little scones are a highlight and can be prepared vegan or paleo. They do have a little green color to them from the pumpkin seeds, but I love that!
Serves 12
APPROX. TIME 45 minutes
Ingredients
½ cup coconut flour
1 cup sunflower seeds, ground
½ cup pumpkin seeds, ground
½ cup gluten-free flour
1 tsp. baking soda
½ - ¾ cup butter or coconut oil
½ cup honey
1 egg
½ cup chocolate chips (I use dairy-free, gluten-free chocolate chips)
Instructions
Grind the sunflower seeds and pumpkin seeds to a pulp either in a high powered blender, food processor, or coffee grinder. Make sure not to overgrind until they become like peanut butter. The consistency should still be like flour, but may be slightly more dense. Combine all dry ingredients together in a large bowl. Combine eggs, honey, and butter or coconut oil and add to dry ingredients. Mix well, but don't over mix.
Preheat the oven to 350 degrees. Line 2 baking sheets with parchment paper.  Divide the dough into half. Spread half of the dough onto a different sheet of parchment paper and press lightly into a circle shape, similar to a pizza, about an ¾ inch thick. Make a cut down the middle and another cut crosswise. Cut the remaining quarters into 1/3s, producing 12 equal triangles. Repeat these steps with the remaining dough. This should leave you with 24 mini scones. Arrange the 24 scones on the baking sheets. Bake in the oven for 24 minutes or until the edges of your scones have slightly browned.
Baking Tip #1: If you melt the butter in a glass measuring cup before pouring it into the mixture, you can simply add the honey to the measuring cup after its been used. The butter remaining on the sides of the measuring cup helps the honey slide right out into the mixing bowl without wasting any honey and without all of the mess of scraping the sides of your measuring cup to get the remaining sticky honey.
Baking Tip #2: The butter is what makes the scone have its crumbly, almost biscuit-like character. Changing the butter to coconut oil will make your scones lose some of that effect, but they are still delicious and are a great dairy-free alternative. In addition if you want to reduce the fat content, these scones turn out just great without using as much butter. Try ½ cup or even 1/3 cup.
Baking Tip #3: To make these scones Paleo, simply use another ½ cup of coconut flour or almond flour in place of the gluten-free flour blend.
Baking Tip #4: Gluten-free flour blends can simply be made at home and stored or purchased from the store or online. I have a nice recipe for a gluten-free blend in my book, More Anti-Inflammatory Diet Tips and Recipes or try one of the following: Bob's Red Mill Gluten-Free Biscuit and Baking Mix, Pamela's Products Gluten and Wheat Free Pancake and Baking Mix, Namaste Foods Perfect Flour Blend.
Baking Tip #5: To make these scones vegan, use baking tip #2 and then use agave syrup or Sweet Freedom instead of the honey. Also, replace the egg with 1 tablespoon of chia seeds soaked for 15 minutes in 3 tablespoons of water.  Add ½ tsp xanthan gum to ensure binding of the mixture.