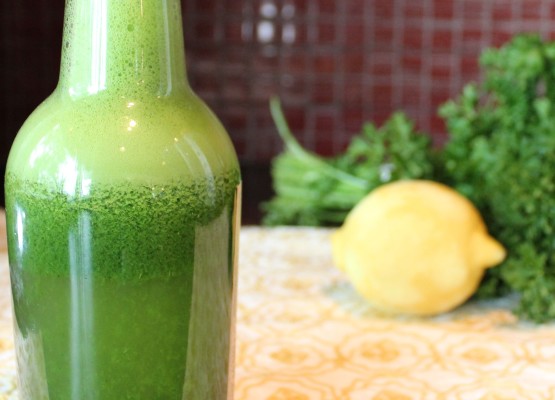 Green "Lemonade"
This is the ultimate cleansing drink. I have been prescribing this drink in my practice and making it for my family for over 10 years. Parsley is a blood cleanser and helps to aid digestion. It is a great source of fiber, calcium, Vitamin C, folic acid (an important B Vitamin), Vitamin K, Vitamin A (important in fighting viruses), and iron. *Special note: Do not consume this beverage daily if you are breast feeding as parsley can dry up milk supply.
Serves 3 or serves 1 for 3 days
APPROX. TIME 5 minutes
Ingredients
1 bunch organic parsley
3-4 cups filtered water
Organic lemon juice concentrate or juice from organic lemons to taste
Pure maple syrup to taste
Strong blender
Instructions
Wash the parsley thoroughly. Cut off 1 inch from the stems of the parsley, making sure to remove any browned areas. Add entire bunch of parsley to the blender. If your blender is not of strong quality, pre chop the parsley before putting it into the blender. Add the water and blend until as smooth of consistency that you can get. Add the lemon juice and pure maple syrup by teaspoons to desired taste. I find that I don't need that much to make it delicious but my children like a little more (obviously). You can make this drink taste faintly like lemonade or make it a little sweeter as a treat. If you are unable to tolerate sweet, you can use a little bit of lemon juice only or add some stevia in addition.
If you are making this drink as part of a cleansing routine. Drink 1/3 of the drink daily for 3 days and make a new Green Lemonade on the 4th day. You can continue drinking this daily as a daily cleansing drink in addition to helping you keep your gastrointestinal system healthy and improving your nutrient intake.