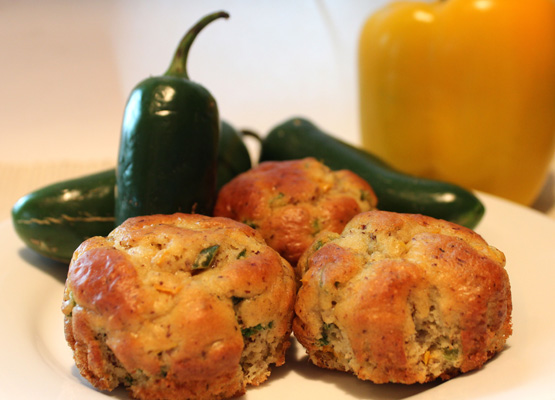 Jalapeno Yellow Pepper Muffins
Most people think of muffins as sweet, but I love this version of a savory muffin. These little muffins are great served aside soups and salads and make a quick treat in the morning if you haven't time for breakfast. They are packed with protein and are grain-free.
MAKES 12
APPROX. TIME 20 to 25 min
Ingredients
1 ½ cup almond flour, blanched
1 teaspoon sea salt or Real salt
½ teaspoon baking soda
4 eggs
2 tablespoons Grapeseed oil
1 jalepeno including seeds, diced
½ cup minced green onion
½ cup minced yellow pepper
Instructions
Preheat the oven to 350 degrees F. Line 12 muffin tin cups with paper liners or spray well 12 muffin tin cups. In a large bowl combine dry ingredients. Blend the eggs and oil until the mixture is completely combined. Then add in the jalapeño, yellow pepper, and green onion. Divide the batter between the 12 prepared muffin cups.
Bake for 20 – 25 minutes until done. A toothpick or fork inserted into the center should come out nearly clean. Remove from the oven, allow to cool, and remove the muffins from the paper liners or muffin tins. Serve warm or room temperature. Store in an airtight container, making sure the muffins are completely cooled before sealing your container.