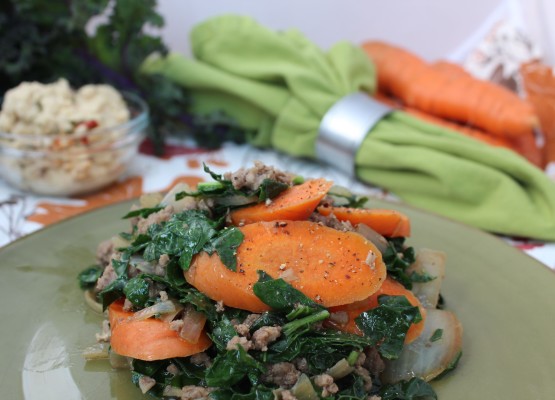 Kale and Carrot Beef with Hummus
This is an extra delicious recipe with ground beef. You shouldn't consume ground beef daily, but eating grass fed organic beef can be a great source of occasional protein. The Middle Eastern Spices in this meat bring out a great flavor in the meat, carrots, and kale. Sometimes kale can be bitter and the sweet spices ward off any bitterness to the kale without having to add sugar or honey. Kale is extremely healthy for you and keeping the cooking time low maintains it's nutrients.
Serves 2-4
APPROX. TIME: 25 minutes
Ingredients
1 yellow onion, chopped
1 tablespoon olive oil
1 lb grass fed organic beef
4 medium carrots, jullienned
4 cups loosely packed chopped kale
1/2 tsp. Real Salt
1/4 tsp. Allspice
1/2 tsp. Cayenne
1/2 tsp. Black pepper
1/2 tsp. Cumin
1/4 tsp. Coriander
1/4 tsp. Cardamon
Hummus, either buy at the store or see recipe for Balsamic Hummus
Lettuce or Spinach
Instructions
In an extra large skillet, heat the olive oil on medium temperature, making sure to avoid heating it to the point of smoking. Add the onions and sauté for about 3 minutes.
Add the ground beef and sauté until the meat is 1/2 of the way cooked. Add all of the seasonings and allow the meat to cook for another minute.
Move the onion ground beef mixture to the sides of the pan and create a center spot for adding the carrots. The oil will naturally flow to the center of the pan. Add in the carrots and allow them to cook in the center oil for about two minutes. Then stir over medium heat until the meat is cooked.
Add the kale, sauté for about a minute and then turn off the heat. The kale will continue to turn bright green, even after the heat is off.
Serve this mixture warm over lettuce leaves, spinach, or more kale. It is intended that this meal have low cooking time, just enough to get the beef cooked. This will leave the carrots rather crunchy and full of nutrients.
Top with hummus and enjoy.
You can also serve this over brown or wild rice or quinoa for a grain inclusive option.