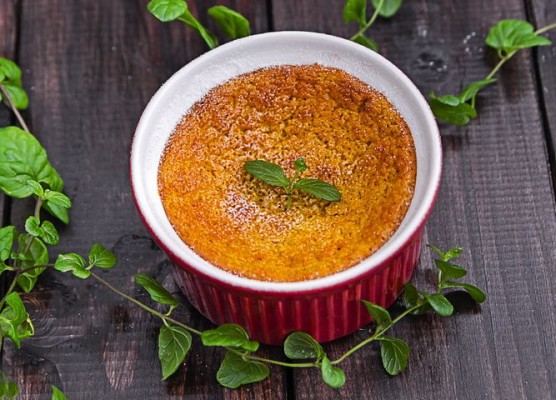 Mini Grain-Free Pumpkin Pies
These mini Pumpkin Pies are perfect for Thanksgiving. They are made very simply with few ingredients and are scrumptious. No crust makes them Paleo and gluten-free friendly and they are only sweetened with honey. For a non-dairy version, exchange the butter for coconut oil or Earth Balance. You can use most kinds of milk and this recipe will still turn out great. I have made these for numerous holidays and they are always a hit! You can have traditional holiday flavor without the extra calories of the crust and sugar. I like the individual serving in a ramekin because it keeps you from overeating. Happy Holidays!
Serves 12
APPROX. TIME: 60 minutes including baking time
Ingredients:
2 cups organic pumpkin puree, or one 15-ounce can organic pumpkin
1 cup almond milk
3/4 cup honey
4 organic eggs, lightly beaten
1 teaspoon butter, softened
1 teaspoon vanilla extract
1 teaspoon ground cinnamon
1/2 teaspoon ground ginger
1 teaspoon Real salt or sea salt
Instructions:
Preheat oven to 375 degrees F.
Whisk all ingredients together in a large bowl until smooth. Pour into 12 8-ounce greased ramekins. Place the ramekins in two 13 x 9-inch baking pans; fill baking pans with hot water to reach halfway up the sides of the ramekins. Place pans in the oven and bake for 30 - 40 minutes until a fork inserted in the center of a ramekin comes out clean.
Serve warm or cool.