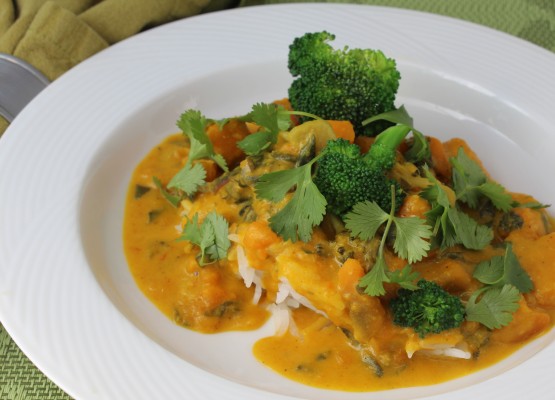 Pumpkin Curry with Broccoli
Another delicious fall recipe. I love the taste of this yummy curry. Serve it over rice or over fresh salad greens.
Serves 8
APPROX. TIME 45 minutes
Ingredients
For the curry paste:
1 can coconut milk
1 stalk of lemongrass
6-8 cloves of garlic
2 1/2 teaspoons dried coriander
2 1/2 teaspoons dried cumin
1/2 teaspoons dried turmeric
1 teaspoon anchovy paste
1 teaspoon crushed red chili or dried cayenne
1 teaspoon chili powder
3 tablespoons lime juice
3 tablespoons fish sauce
1/2 large red onion, chopped
2 tablespoons pure maple syrup
(makes double batch)
For the rest of the recipe:
1 tablespoon olive oil or coconut oil
1 small Kabocha squash
1 can coconut milk
1 cup broccoli floretes
1 cup chicken broth
Juice from half Keffir lime (or 2 Keffir lime leaf)
1/8 teaspoon Keffir lime zest (omit if you are using the Keffir lime leaves)
Cilantro for garnish, chopped, stems removed
Instructions
First, preheat the oven to 350 degrees. Cut the squash in half and carve out the seeds. Bake face down in baking pan filled with an inch or two of water. Throughout the baking process, continue to check and add more water as needed. Cook the squash until it is soft and can be easily cubed, but not so soft that the squash become mushy as you try to cube it.
To make the Red Curry Paste:
While the squash is baking, being to prepare the curry paste. Remove the tough outer leaves from the lemongrass and cut off the end. Finely chop the stalk. Combine the lemongrass and all remaining paste ingredients in a high powered blender or food processor. Blend until smooth. Your ingredients should produce 3 cups. Divide the mixture in half and save 1 1/2 cups in the freezer for a later date. You can use this as a base for any red curry recipe in the future.
To make the Pumpkin Curry:
After the squash is done baking, cube it until you have 3 cups cubed squash. Additional squash may be left over for later use. Heat the olive or coconut oil in large stir-fry pan or wok over medium heat until hot; add the red curry paste. Heat the paste until it is very fragrant, about 2-4 minutes. Add remaining ingredients except for the pumpkin and cilantro and heat over medium heat until the broccoli turns bright green. Add the 3 cups of squash and stir gently.
Serve immediately over rice or salad greens and top with chopped cilantro.