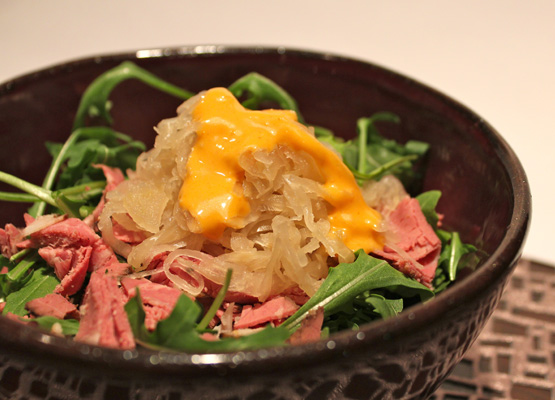 Reuben Salad
I used to love Reuben's when my grandmother prepared them for me as a child. I grew up enjoying the taste of sauerkraut on these delicious sandwiches. Now I enjoy trying out my old favorite recipes and turning them into a healthier indulgence. Because I try mostly to go without bread or gluten, this salad makes a great Paleo version of the traditional Reuben sandwich. My family, including the picky 4-year old, loved this salad.
SERVES 4
APPROX. TIME 20 to 25 min
Ingredients
4 cups arugula
1/3 lb. turkey pastrami
¾ cup sauerkraut
½ cup Roasted Red Pepper Dip
Instructions
Purchasing fermented sauerkraut for this recipe will provide you with even more health benefits due to the active live cultures that are restorative for your gastrointestinal tract. Fermented sauerkraut can be found in your local health food store, but also can be easily made in your home with few ingredients. I included a recipe for making your own sauerkraut in More Anti-Inflammation Diet Tips and Recipes.
Divide the arugula between 4 separate bowls. Divide the pastrami among the 4 bowls by making a mound in the center of each bed of arugula. Top this with sauerkraut. Drizzle each salad with the Roasted Red Pepper Dip and enjoy.