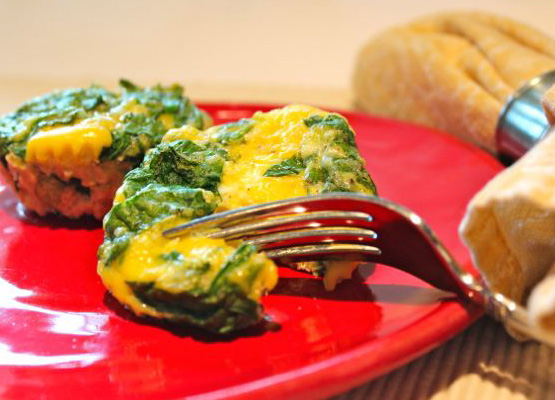 Spinach Egg Cups
I put a recipe similar to this on my Facebook page and it got a lot of attention due to the conflicting views on egg consumption. For those who have an egg allergy, eggs should clearly be avoided. For those who want to remain vegan, eggs should be avoided. But for those of you wanting an easy protein source, organic eggs can be a great item to include in the diet.
SERVES 6
APPROX. TIME 20 to 22 min
Ingredients
12 large organic eggs
2 cups spinach, chopped
¼ cup onion, minced
¼ teaspoon sea salt or Real Salt
½ teaspoon ground black pepper
Instructions
Some have concern about the cholesterol content of eggs, but eggs are also high in lecithin, which promotes fat metabolism. One egg can have as much as 2000 mg of lecithin. Lecithin's ability to shuttle fats in and out of cells has been shown to promote healthy cholesterol levels. Lecithin helps to emulsify cholesterol and other fats before they can attach to cell walls and start clogging arteries. Emulsify, in this case, means making the fats mix with water and other substances, like blood, to get a move on through your body. Strangely enough, the same emulsifying properties that make lecithin important in mayonnaise may make it helpful in preventing strokes, heart attacks, ateriosclerosis, and gallstones. Lecithin acts like oil for your nervous system, keeping everything lubricated and moving away smoothly and efficiently so the fat doesn't get "stuck" in undesired places like arteries and your waistline!
Preheat oven to 350 degrees F. Combine all ingredients in a large bowl and whisk until blended. Spray muffin tins very well because the eggs have a tendency to stick if not coated with oil properly. Divide the mixture between the 12 muffin tin cups and bake for 20 – 22 minutes until the eggs are cooked throughout. You can test this by inserting a fork, which should come out clean. Remove the egg bites from the oven, allow to cool slightly, and then ease out of the muffin tins. Serve warm.